Sustainability in farming is the ability to run a profitable farm for a long time.
Sometimes people never realize that they are either making profits or losses because they didn't plan for sustainability of their enterprise.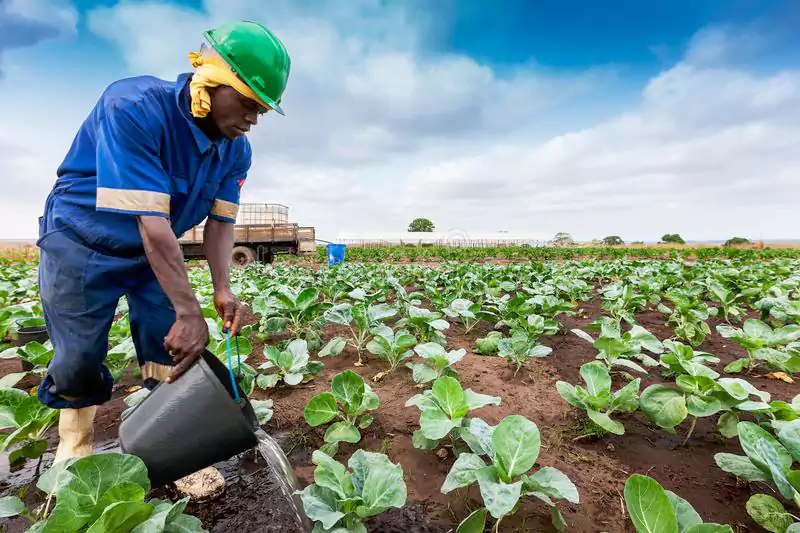 Principles Of Farm Sustainability
1. Cost Reduction
Here you can reduce costs by having the necessary resources in place for example:
You can reduce labor costs of cultivation by buying good bulls to do for you the cultivation or getting machinery
You can reduce the costs of buying manure and fertilizers by owning at least a cow at the farm that will give you manure.
You can have short term and long-term projects in order for the sort term to finance the long term.
2. Revenue Boosting
Having more than one project at the farm
Running a selective mixed farm
Maximally utilizing all your land
Strategic Marketing strategies
3. Mixed Farming
Mixed farming is combining two or more independent agricultural activities on the same farm serving different purposes.
A typical case of mixed farming is the combination of crop cultivation with diary farming or in more general terms, crop cultivation with livestock farming. Mixed farming maybe treated as a special case of diversified farming.
This particular combination of enterprises, support each other and add to the farmer's profitability.
If you have a piece of land lets say 2 acres, its advisable that you have numerous enterprises at the farm. You need
Long Term Projects
Banana 1yr
Hass Avocado 3 years
Coffee 2 years
Cocoa 3 years
Oranges 2yrs
Mangoes 4yrs
Pawpaw 8months
Cassava 1year
Short Term Projects
Tomatoes 3months
Watermelon 3months
Greens 2months
Spinach 1 month
Sukuma wiki 1 month
Cabbage 3months
Strawberry 4 months
Carrots 3 months
Beetroot 2 months
Onions 4 months
Animal Projects
Rabbits 4 months
Goats 8 months
Layers 6 months
Broilers 1 month
Diary 1 year
Piggery 6 months
Advantages Of Mixed Farming.
Farmers can keep their keep their fields under continuous production.
It enhances the productivity of the farm land
It increases the per capita profitability
Both farming compliment each other.
It enhances the productivity of the farm also.
Reduce dependency on external inputs and costs. In the example of mixed cropping of animal husbandry and crop farming the crops and animals components can also complement and support each other.
For example, the crop farming gives feeds to animals, and in turn the animals can supply fertilizers to the crop. So this reduces the need and cost of fertilization and animal feed. The animals (such as cattle and sheep) can also perform weeding which reduces the need for herbicides.
Note: If you can be able to reduce costs and maximize revenue, then you will run a sustainable farm.
4. Irrigation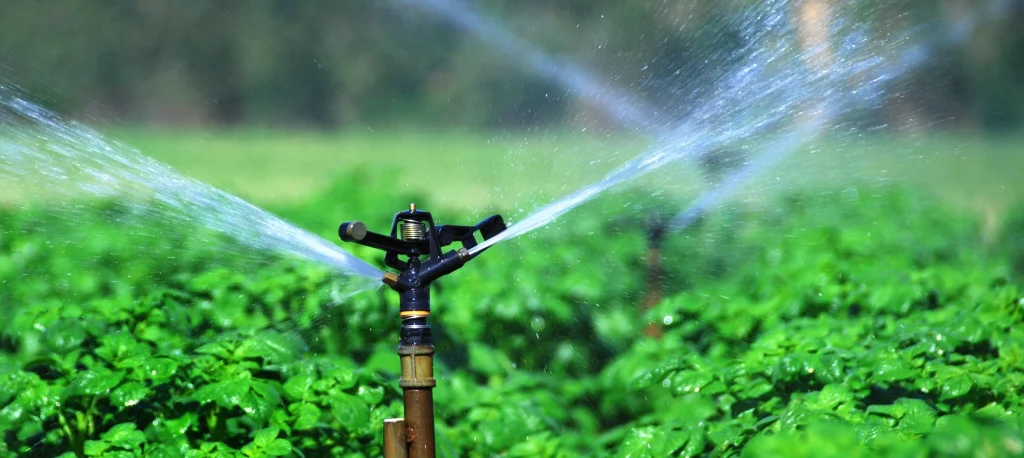 Irrigation allows you to grow crops all year round and harvest money all the time, you must plan and budget for water accessibility at your farm like digging up a deep well, this means you can grow and have production at any time of the year hence becoming sustainable in the market.
5. Plant Crops and Stock Animals At Different Stages
For Crops imagine you want to supply a consistent market with fresh vegetables or other things like mushrooms. You need to be planting almost every after 2 weeks or month such that when you start harvesting, you can harvest continuously.
Let's say you want to be the biggest supplier of tomatoes in a specific market, and you have 10 acres. It's not advisable to just do the 10 acres at once because you want a big harvest.
Start with one acre or 2 and keep planting new plants every after a month until you cover up your 10 acres. By the time you start harvesting, you will always have tomatoes from your garden.
Those who are targeting export market or any other modern market, consistence are key. They will ask you for 200kgs of tomatoes every week and you will only supply for 2 months and you are no more
What can you do on 5 acres?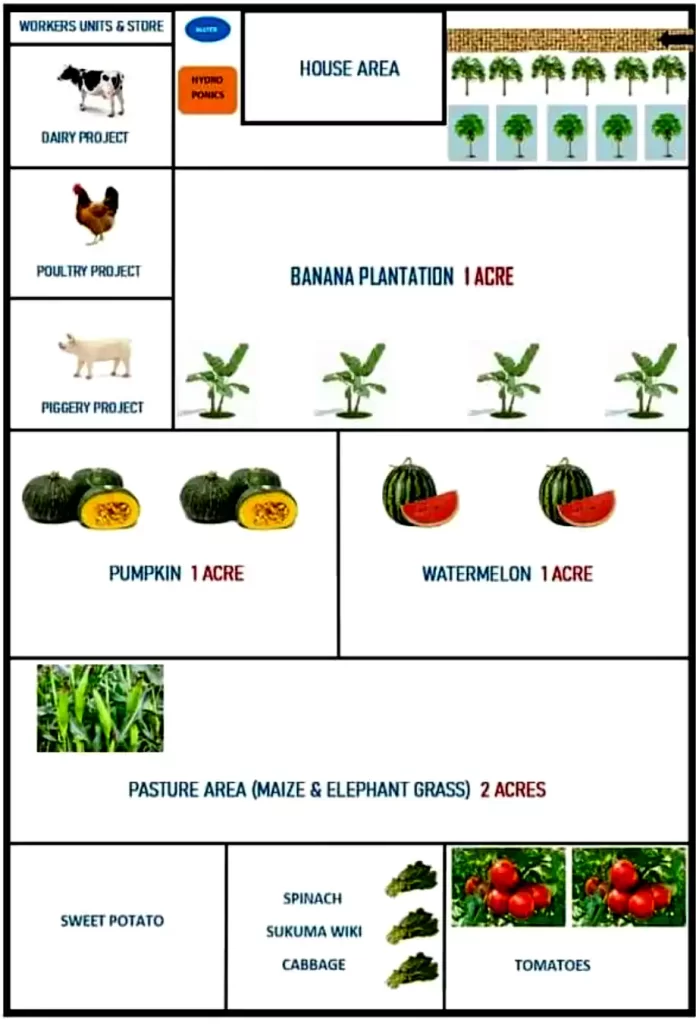 Acre 1: Animal Projects
Here we can decide to partition this acre into different blocks and have all animal projects here. Having animals will give you manure for your crops and daily income like from diary cows.
You will need to construct structures for semi-zero grazing to keep your animals there as you source our for their feeds
Cows 5
Chicken 1000
Goats 30
Rabbits 100
Acre 2: Fruits Orchard
You will need to have some long-term and short term fruits; you can plant 80 mangoes trees, 250 orange trees, 700 passion fruits you can as well plant over 400 pawpaw trees on this one acre
Fruits have a ready market mostly in urban markets and you can choose to add value to them. Fruits also give you consistent harvest for a long time
Acre 3: Vegetables (Horticulture)
Now you need the short term projects and vegetable are perfect for this, most vegetables grow for 4 months or less like cabbages, tomatoes, spinach, lettuce, onions and others.
This gives you chance to earn money as you wait for the long-term projects to grow
Acre 4: Other Crops (Seasonal Crops)
Here you can grow the temporary seasonal crops like maize, soya, sunflower, ground nuts, sweet potatoes, cassava and maybe beans.
These can help you in food security, feeding your workers, animals and earning you extra income.
Acre 5: Banana Plantation
In our last acre, we have banana which we all know as matooke. A staple food for Ugandans mostly in the central part.
In one acre you have at least 445 pants and you can harvest over 40 bunches every month from this plantation.
Conclusion
Sustainability means keeping in production all year round and continuous profitability in your farm business.
For you to run a sustainable farm, you must adopt the above principles and apply them at your farm, trust me you will run a sustainable farm business
Subscribe To Our Trainings Now