Do you wish to start the journey of being a successful entrepreneur and business person, the first step is learning a skill that will translate to a business, practical skills that can grow into production and manufacturing enterprises.
Here is an opportunity for you to learn skills that will make you an entrepreneur come 2024, don't miss to be part of this memorable and impactful session.https://skillsforyouths.org/
Agro & Skills Training 2022 edition
Last year 2022 in august, we conducted a skills training at our offices in Nansana, Wakiso Hoima road and over 50 youth, men and women were skilled in:
Rabbit farming
Making organic fertilizers and pesticides
Liquid soap production
Yoghurt production
Entrepreneurship skills
After the 2 day workshop participants were awarded certificates, excited to go and start on their skills and start business enterprises, the training was fun, educative and interactive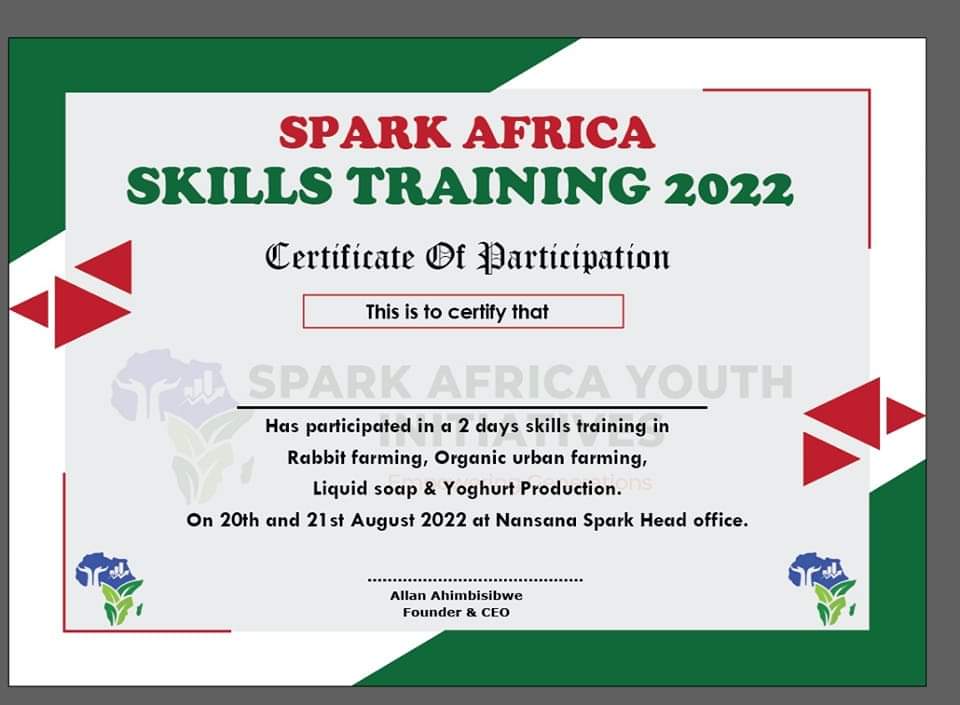 2023 Special Edition
Here is another opportunity to learn and start your journey of entrepreneurship.
Don't miss our end of year Practical training where you will learn both Farming & other practical business skills https://sparkafrica.org/event/agro-skills-training-2023/
This edition is so special since we shall be celebrating our 7th Anniversary & unveiling our skills academy. Please come and support us as all the money from this training is to help us build a Training Shade at our new center to boost our trainings.
DATE: 9th & 10th Dec 2023
VENUE: Spark Center in Luttisi Namayumba Hoima Rd Wakiso.
FEE: 75,000shs for both days
Caters for: Breakfast, Lunch, Certificates & Free Seedlings
TIME: 10am – 4pm
TRAINING PROGRAM
Day 1: Sat 9th
1. Mushroom Production
2. Making Organic Fertilizers & Pesticides
3. Urban Smart Gardening
Day 2: Sun 10th
1. Bar Soap Production
2. Liquid Soap Production
3. Anniversary Party till late
4. Business model formulation
Don't miss lots of learning, networking, fun and those interested in camping come with your camping tents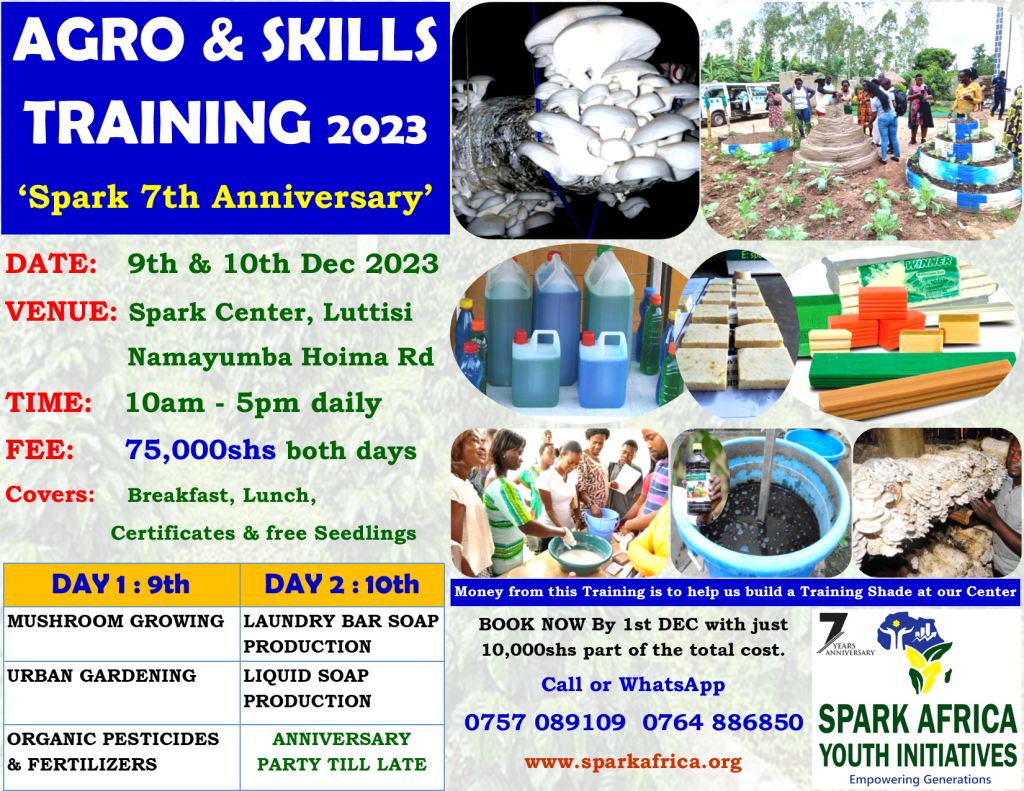 How to Book & Register
Book & Register now before 1st Dec with 11,000shs, balance to be paid at the training venue on 9th Dec
For payments send to +256 782 905808 or +256 708 900936 names Allan Ahimbisibwe
After sending please send us your full names, address and any other details to our email or WhatsApp
Organized by: SPARK AFRICA YOUTH INITIATIVES
Email: info@sparkafrica.org