We Setup: Rabbit Cages, Poultry, Piggery, Diary and Goat Structures.
Looking for a comprehensive and reliable animal husbandry solution?
Look no further than Spark Africa! We specialize in setting up all types of animal housing, from rabbit cages to poultry pens to piggeries and more.
We use only the highest quality materials to construct our enclosures, so you can rest assured knowing your animals are safe and secure.
In addition, our team of experts can help you with everything from choosing the right location for your animal husbandry operation to providing guidance on proper care and management.
Contact us today to learn more about how we can help you get started in the exciting world of animal husbandry!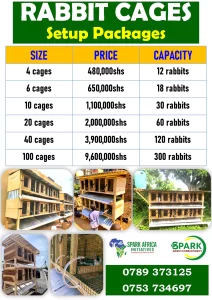 We set up rabbit cages and structure of all sizes anywhere around the country. We charge according to number of cells starting from 4 cells at 450000shillings, 6 cells at 650000 shillings, 8 cells at 8500000 shillings then 10 cells at 1Million shillings.The above costs caters for all materials, labor and transport around Kampala, Wakiso and Mukono. Each cell accommodates 2 to 3 rabbits.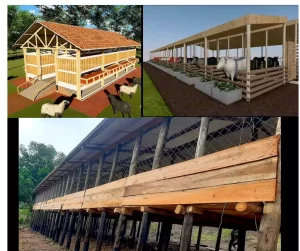 We set up goat structures using eucryptus and timber at a cost of 5 million for 50 goats, 8 million for 100 goats anywhere in Uganda. We set up cattle structures at a cost of 2 million per unit that accommodates one cow. We also set up piggery structures at cost of 5 million for 5 units and each unit accommodates 2 pigs.
Spark Africa animal cage works